Christmas promise fills the air, as gatherings, dark nights, shimmering lights and celebrations make a return. Everyday, I feel this festive mood starting to spark, igniting excitement like a flaming plum pudding or a roaring fire, in all aspects of local Rutland life – from our chefs and wine merchants to our community choirs and theatre companies. I sense it too in the Christmas lists that my Heidi Kjeldsen customers are preparing, and in the talk of sparkling outfits being planned with my jewellery.
In preparation for Christmas, I am delighted to announce the arrival of my 2021 Christmas Jewellery Collection entitled 'Spruce,' this newly-assembled collection launches online and in-store now.
'Spruce' features a wealth of gorgeous jewellery for you, and for the special people on your Christmas list. Every glittering ring, necklace and bracelet, designed to dazzle wherever you may be, whether sipping mulled wine with friends, peeling sweet clementines around the tree or singing carols by candlelight.
'Spruce' by Heidi Kjeldsen lifts the curtain, in spectacular fashion, on a Yuletide of eagerly-anticipated lunches, late night parties and charming winter markets, and I cannot wait for you to discover its wonders. The pieces below offer a tantalising glimpse into the key jewellery designs, colours and themes I hope you'll adore.
Spruce Jewellery exudes sophistication and style
Glistening on the frostiest of days or dressed up for an evening out, the pieces from my 'Spruce Collection' will help to complete the most elegant winter looks. Wear my jewellery with your party dresses, but also with cosy layers of woollen wraps and cashmere sweaters.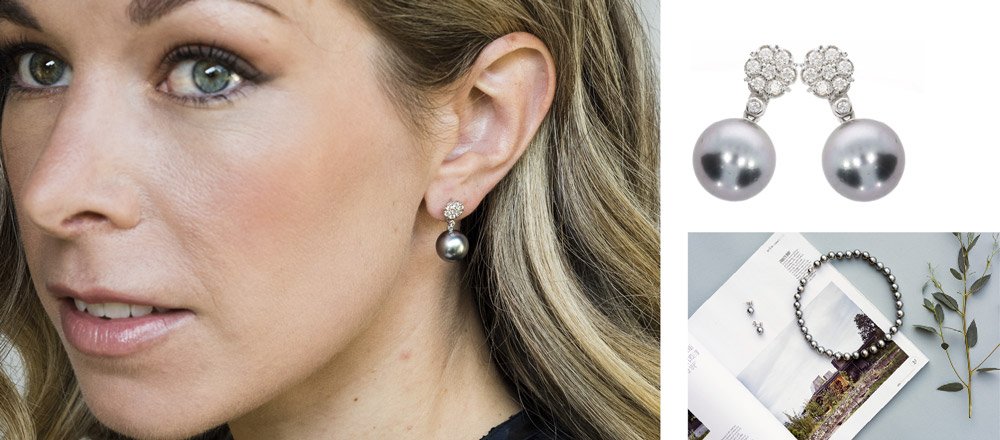 The silvery grey hues of my Tahitian Pearl Necklaces will look mesmerising set against the whisper-soft texture of a classic cashmere knit. Pearls' smooth surfaces contrast deliciously with the soft, wispy texture of this luxurious wool. For show-stopping style, wear a string of pearls over a wintry roll neck jumper (ideally in tonal shades of grey or classic black). 
Spruce Collection: Diamond and Pearl Drop Earrings

Sparkling with unabashed beauty, my exquisite Diamond and Pearl Drop Earrings look amazing when worn with upswept hair, these statement earrings will add the "wow-factor" to your dressiest of Christmas looks. To style these Diamonds and Pearls with panache, slip into an off-the-shoulder dress. Incredibly chic and feminine, Pearl and Diamond drop earrings will crown your most lavish of looks. Winter brides, please also take note of these delightful earrings! 
Spruce Collection: Diamond Tennis Bracelet

Timeless and infinitely wearable, a Heidi Kjeldsen Diamond and Yellow Gold Tennis Bracelet makes a cherished Christmas gift. Accessorise this Tennis Bracelet with a refined, yet casual long-sleeve top for an elevated weekend look, or pair it to perfection with a sleeveless, or short sleeved, party dress. Whether worn with long sleeves or short, my Diamond Bracelet can be trusted to make an impact.
Spruce Collection: Cluster Rings
Shine through to New Year's Day and beyond, wearing my spectacular Bronze Sapphire and Diamond Cluster Ring. Its Bronze hues look incredible in combination with the colour palette of brandy, chocolates and cream. Imagine the extraordinary beauty of this ring as it accents your favourite camel-coloured wrap coat, which you've layered over a creamy cashmere sweater. 
My glamorous Morganite Diamond and Rose Gold Cluster Ring radiates warmth and feminine beauty. Its dreamy tones and lustre pair perfectly with soft neutrals, blush pinks and golden tones, and with party wear, ranging from sequin gowns to luxurious wraps.  
Spruce Collection: Aquamarine and Diamond Dress Ring
Reserve my enchanting Aquamarine and Diamond Ring for that special someone who gravitates towards ice blues and Diamonds. Set on a white Gold band, these precious gems love snow-white layers, and will dress up an ethereal, blue evening dress with aplomb.